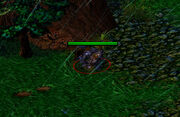 Yukale, The Fallen Ranger is one of the difficult quest boss, She will appear after you obtain quest Fallen Ranger from Liniel. She is located entrance of Night Elf base, the huge tree location. Night Elf place is quite crowded with monsters so it will quite difficult to fight her with plenty of monsters around, most troublesome is, she has the Phantom Fighters, also she has 2nd form, 1st form she looks in elf after she die in elf form, she will revive again as become a undead form of ranger.
Yukale's stats
Edit
152 - 162 (+90) Piercing Damage
Yukale's Item
Edit
Yukale's Ability
Edit
Yukale's Drop
Edit
She will drop Dark Bow, Greater Nectar and Crystal Shard.
If Yukale is defeated, you may fight her in the Battle Arena as "Demonic Archer".