For more Battle Arena teams, see the Bestiary section of the navigation template.


This page is potentially outdated due to a new version of FFERPG being released and is in dire need of an update. Please consider helping out by bringing the information up to date.
The Split Devil is a superboss of three parts that is fought in the Arena.
Loz - 2573-9968 attack
Kadaj - 2806-3450 attack
Yazoo - 1516-2876 attack
How to Summon
Edit
This boss is extremely hard to summon unless you know exactly what you're doing. First, you need to find the three NPCs by the same name as the three parts on the map. Loz is above the shipyard (it is recommended that you change camera view), Kadaj is near the obelisk in Kalm, and Yazoo is around the Farm (screenshots attached).
Go up to all three and click on them. They will turn to face you. When you do this for all three, they are unlocked as a battle in the Ningen Cup.
Loz - Battle Frenzy, Resistant Skin, Haste, Improved Critical Strike (15%, 3x)
Kadaj - Dispell Magic, Resistant Skin, Shell, Cripling Poison, Critical Hit (15%, 2x)
Yazoo
-  Protect, Flare, Diamond Dust (9000), Hellfire (11000), Resistant Skin.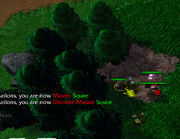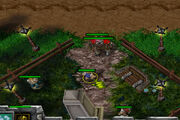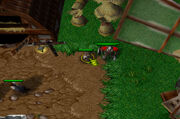 Their drops are worthless. They are just a battle for fun/bragging rights.