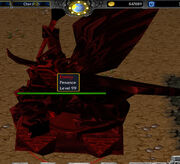 This page is potentially outdated due to a new version of FFERPG being released and is in dire need of an update. Please consider helping out by bringing the information up to date.
Penance, The Judge is a super boss who is summoned using the Perfect Mark of Darkness.
How to Summon
Edit
The Judge is one of the hard bosses in the game to set up. First, you must do Chocobo Breeding to get a White Chocobo who can walk anywhere. This is necessary to get to where you battle him. If any player wants to join the fight you can share unit and use White Chocobo to transport him or the player simply get a chocobo and teleport to the hero, and you will need quite a team to beat him(Priest in the team will be best). After you get your chocobo, you need to get all 16 Marks of Darkness from Dark Eidolons and sell them to the Bazaar. Then, the Bazaar will sell you Ultimate Power, or Perfect Mark of Darkness.
Use your chocobos to get to the lower right corner of the map (below Kilrog). It is surrounded by darkness, so use your chocobo to get in. Place the Perfect Mark of Darkness in the Ring of Darkness,a cut scene will appear and so The Judge appear. (see photo)
Penance has:
Flare - 4000 direct damage, 3000 area damage, slow.
Ultima - 9999 DPS, AOE.
Wave Fist(Modified Version) - 10000 damage, 1 second stun
Local Quake - 375 damage, 7 second stun
Resistant Skin - Immunity to certain spells.
Penance drops plenty of golds and few shards, also he will drop an Artifact Armor "Maximillian"
As Penance defeated, you may now fight him in the Battle Arena as "Der Richez"