Abilities
Edit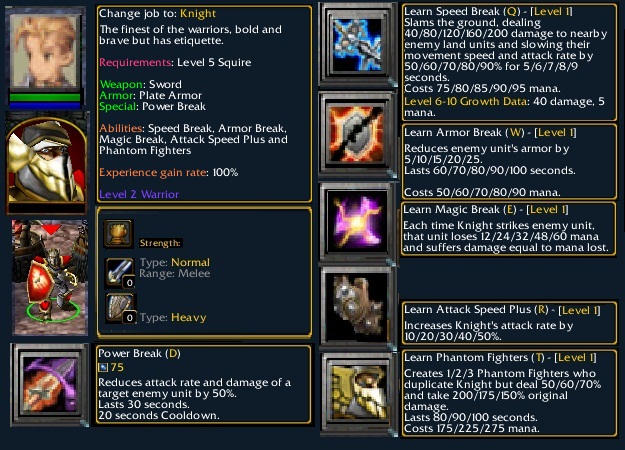 Speed Break (Q)
Edit
Slams the ground, dealing 40/80/120/160/200 damage to nearby enemy land units and slowing their movement speed and attack rate by 50/60/70/80/90% for 5/6/7/8/9 seconds. Costs 70 mana.
Armor Break (W)
Edit
Reduces enemy unit's armor by 5/10/15/20/25. Lasts 60/70/80/90/100 seconds. Costs 40 mana.
Magic Break (Passive)
Edit
Each time Knight strikes enemy unit, that unit loses 12/24/32/48/60 mana and suffers damage equal to mana lost.
Attack Speed Plus (Passive)
Edit
Increases Knight's attack rate by 10/20/30/40/50%.
Phantom Fighters (T)
Edit
Creates 1/2/3 Phantom Fighters who duplicate Knight but deal 50/60/70% and take 200/175/150% original damage. Lasts 80/90/100 seconds. Costs 175/225/275 mana.
Power Break (D)
Edit
Reduces attack rate and damage of a target enemy unit by 50%. Lasts 30 seconds. 20 seconds Cooldown.