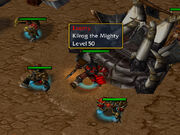 Kilrog the Mighty, Corrupted Orc Chieftain is the namegiver and target of the Slay Kilrog quest. He is located in the Orc base beneath Centaur Genghis Kahn, together with many guard towers, warlocks, raiders, and peons.
Attributes
Edit
Kilrog deals has 214-236 (+55) normal attack damage while having 18 (+57) heavy armor and 5600 base HP plus 3500 from equipment. Boosting 200+20 Strength, 200 Agility and 100+4 Intelligence he is one of the tougher enemies you might run into without doing any high end content. In fight he uses the abilities Phantom Fighters, Blink, Uncanny Dodge, Shared Life, Critical Hit, Thundaga, and Firaga, and Magic Break.
His equipment consists of an Ancient Blade supplemented by an Aegis Shield, Platinum Mail and Platinum Helmet as well as the artifact Touph Ring. He will heal with his 5 X-Potions if given the chance.
Engagement
Edit
The main concern with Kilrog is his army surrounding him, with the abilities of Inner Fire, Roar, Fireboalt, Bloodlust and Command Aura being used by different actors.
After finishing of his army Kilrog himself is pretty impressive still with an 18% chance to block and a very fast attackspeed dealing decent damage. If he uses Phantom Fighters his damage output tripples making him extremely dangerous while he does so. Unlike Yukale the real body is not as easy to discern so you either need to completely overpower him with physical attacks or have enough spells at your disposal to negate his Touph Ring and still do damage.