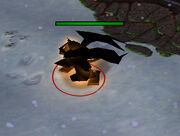 Hashmalum, The Regulator, is the difficult boss of the 8th story quest, after obtain the quest Destroy Hashmalum from Celeborn as well the gates to Snowy Mountain will open. This boss is much harder and power difference very big compare to Gafgarion. When his hp drop to 1(You still received exp), he will call forth the evil warlock Velius and Velius will heal his health completely, Hashmalum cannot be killed until Velius is defeated.
Hashmalum's stats
Edit
417 - 431 (+125) Demon Damage
Hashmalum's Item
Edit
Hashmalum's Ability
Edit
Uncanny Dodge (Reduce from piercing and spell damage)
Velius's stats
Edit
242 - 356 (+54) Demon Damage
Velius's Item
Edit
Velius's Ability
Edit
Hashmalum and Velius Drops
Edit
Hashmalum will drop Fel Axe, Blood Ether and Crystal Shard. Velius will drop Cursed Wand, Greater Nectar and Crystal Shard.
If Gafgarion, Hashmalum and Velius is defeated, you may now fight them in Battle Arena as "Demon Trio".