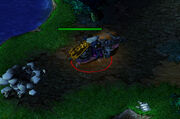 Gafgarion, The Dark Knight, a difficult boss to fight, he will appear when the evil warlock Velius comes and resurrect him back to life, thus the quest automatic obtain Kill Gafgarion. He located just below of Gnoll Camp.
Gafgarion's Stats
Edit
227 - 237 (+65) Normal Damage
Gafgarion's Item
Edit
Gafgarion's Ability
Edit
Gafgarion's Drop
Edit
He drops Rune Blade and Crystal Shard.
If you already done the Holy Knight quest, Ramza the strong ally will come aid you to fight Gafgarion after the cut scene, this will make fighting Gafgarion easy to fight