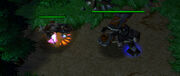 Minotaur and Sacred, The Brothers are the quest boss after obtain Brothers from Izlude. They are quite dangerous especially to Minotaur due to his speed, Sacred the younger brother of Minotaur is more to supportive type boss he is not dangerous as his brother Minotaur.
Minotaur's Stats
Edit
143 - 153 (+80) Normal Damage
Minotaur's Item
Edit
Minotaur's Ability
Edit
Endurance Aura (Himself only)
Sacred's Stats
Edit
99 - 113 (+50) Normal Damage
Sacred's Item
Edit
Sacred's Ability
Edit
When they are defeated, they will teleport to Kalm and guard over the gate
You will gonna fight them again after you obtain Yet Another Try quest as they say they feel stronger while defending Kalm.